Noh mask and doll maker, Hokuzan Nogawa.
We introduce you his works through the history and the generations of his family.
The Nogawa family has been known as engravers of Bunraku Dolls over 100 years through 4 generations. The family also makes Theatrical Dolls, Noh masks, and Stage Dolls.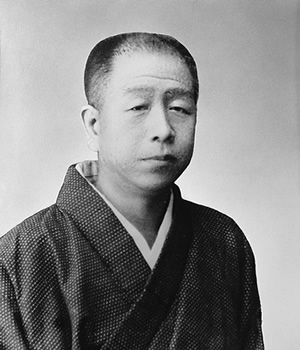 Otoji Nogawa, (the first Hokuzan), the founder of Nogawa family,was born in Obanazawa city in Yamagata in 1869. and later he became the disciple of Heigorou Jinbo, who was famous as doll creator in Kuramae, Tokyo.  After over decade of continuous hard work and brushing skills, only he was allowed to succeed the master's the secret techniques among many disciples.
After returning to Obanazawa as a doll maker, Otoji Nogawa spent time to create and improve theatrical dolls as "Hokuzan" Gou(name). He produced many dolls used at festivals in nearby towns, including Obanazawa. Soon after his reputation grew, his fame spread to Shinjo city.
That's how he started making dolls for parade floats at Shinjo Festival, which has been known as the best festival in Mogami area.
Hokuzan, who moved to Shinjio around then, created many Stage dolls and Bunraku dolls. He also worked as a sculptor under the different name, Ryukou Nogawa. Many of his works still remain in local temples, shrines, and traditional houses. Hokuzan, who was not only a doll maker but also a poet, founded Haiku an association. He named it "Hokuyosha" and became the first chief editor.
He later became the first doll master of Nogawa family. He died in 1928, at the age of 59.
Tokutaro Nogawa (the first Yozan), the second generation of the family, was born in Obanazawa city in 1900. He moved to Shinjo city at the age of 5 with his parents.
He learned directly from Hokuzan in early days, learned doll production and sculpture. Inherited his father's talent, Tokutaro later grew up to be a genius doll maker just like this father. He created many Stage dolls, Bunraku dolls, and Noh masks as the name of "Yozan".
The first Yozan was more of the hobbyist than Hokuzan. He enjoyed Japanese calligraphy and painting. He worked as the second chief editor of the haiku association "Hokuyosha", and also served as a grand master at Furuike church in Tokyo. His style was known as Shofu Ise style which was influenced by Basho Matsuo. He also mastered Hosho style of "Yokyoku", the Japanese traditional music. His broad hobbies and cultural knowledge were reflected on his works, including puppets, dolls, and Noh masks.
The first Yozan's dolls had features with more modern and realistic looks. Those features were also reflected on his float dolls, that helped to obtain high evaluation on Shinjo festivals.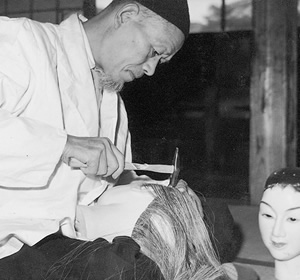 "From Doll creator to Noh masker"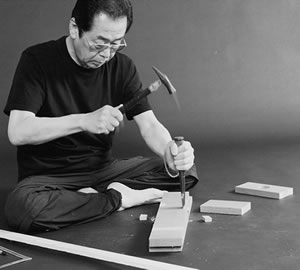 Masahiro Nogawa was Yozan II. He was trained under the first Yozan at the age of 6, helped carving and painting at the age of elementary school. By the time he turned 18, he was already fully skilled. Although the first Yozan, who was ill at that time, showed the sign of recovery for a little while, he died in 1964 when Masahiro was 20 years old.
Masahiro took over all of his father's business, including making dolls. His mother Hanayo, who was the wife of the first Yozan, was also familiar with Kabuki and played Gidayu herself. Therefore, she supported Nogawa's family business as an advisor on doll making.
Masahiro took the name of the "Yozan II" at the age of 21. While working as a doll creator, he also learned to be Noh Mask under a very famous master. By the time he turned 30, Yozan Nogawa was also known nationwide as a Noh masker. The difference between the first Yozan and the second is that the first was mainly a stage doll maker, but the second expanded the area of work to the stage of Noh mask.
"Craft techniques and tradition for later generations"
Today, Nogawa's historical family business is led by Tomoyuki Nogawa (Hokuzan II), who is the eldest son of Yozan II. Tomoyuki was born in Sendai city, the production base where Yozan II worked as a Noh masker. He grew close to his father's Noh mask and doll making, it was natural for him to follow the same career path as his father.
"The first day of learning arts is June 6th at the age of 6"
This has been a tradition in Nogawa's family, and strictly followed even today. Tomotaka was no exception, either. He started his training under Yozan II at the age of 6, including painting and carving. After high school, he became a full time disciple of Yozan II, and chose the same path as a doll creator and a Noh masker. In 2007, when his skill was acknowledged by Yozan II, his works began to come out to the world. He became Hokuzan II in the same year that Hokuyosha celebrated 100 years anniversary.
Not only a Noh masker by following Nogawa's historical family business, Hokuzan II also makes stage dolls and =Theatrical dolls in Mogami and other Tohoku areas. He also often visits local elementary schools and attends events to share his techniques of the traditional culture.
Taking over Nogawa's name means to inherit its family business, which requires to pass all the techniques and tradition onto the future generation. Hokuzan II will continue to devote himself to his works with his responsibility and pressure.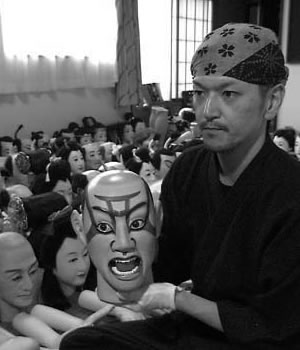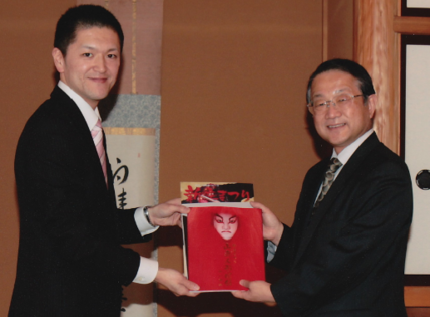 1977, Born in Sendai city, as the eldest son of Yozan II (Tomoyuki)
1983, Started training under Yozan II at the age of 6.
1995, Became the disciple of Yozan II to be a Noh masker and a doll creator.
2003, Produced the Shinjo festival doll "Kamakura Gongoro Kagemasa"
2004, Produced the Shinjo festival doll "Hidari Jingoro"
2005, Delivered a lecture at Yamagata University Area Campus Mogami.
2007, succeeded the name, "Hokuzan II"
2010, Presented his collection of books, "Choutaku (carving and polishing)"(Nogawa Hokuzan and Yozan haiku collection), and "Shinjo festival float dolls catalog" to The Agency for Cultural Affairs's Commissioner, Hideo Tamai (at that time).
2012, Took office as an advisor to the Shinjo float federation
He has also produced many Noh masks and dolls, has been a lecturer at Yamagata University Area Campus Mogami, and has been a commentator in a Yamagata's local TV program, "Shinjo festival".
The first Nogawa family: The first Hokuzan (Otoji), 1869-1928
Second generation: The first Yozan (Tokutaro), 1900-1964
Third generation: Yozan II (Masahiro), 1943-
Fourth generation: Hokuzan II (Tomoyuki), 1977-